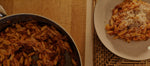 In Italy, eating together almost invariably involves wine, and food is rarely out of the thoughts of any self-respecting Italian. So, to show these wines off at their best, we're busy finding great dishes to pair with them, and getting the recipe just right for you so you can enjoy San Martino wine with them at home.
Gnocchi Sardi with Sausage and Fennel Ragu
Our first tried and tested recipe is Traditional Gnocchi Sardi, a wonderfully delicate pasta, served in a Ragu of sausage, saffron and fennel seeds. 
Gnocchi Sardi is a pasta traditionally from Sardinia. Commonly used as a first course at a family event or wedding, this pasta combines a delicate mouthfeel with the deep sense of complete satisfaction. For us, the recipe below is a favourite midweek meal. It's quick, tasty and results in the creation of a most authentic Italian meal – as a cook, this is an absolute winner. Served best with
Ortrugo Frizzante Colli Piacentini
.
Ingredients
6 high-quality pork sausages (400g) with their skins removed
360g Gnocchi Sardi
1 onion, finely chopped
5 garlic cloves, crushed and chopped or grated
225ml of white wine, preferably dry
800ml passata or 2 x 400g can high-quality Italian chopped tomatoes
100ml water (rinse out tomato can/jars and add)
1.5-2tsp fennel seeds
2 bay leaves
Some strands of saffron (optional)
Olive oil
Salt
Black pepper
Method
Using a skillet or deep-frying pan, sauté the onion and garlic with the fennel seeds and bay leaf in a splash of olive oil until soft and they begin to colour
Break-up the sausage meat into pieces and stir in.
Regularly stirring, cook until perfectly brown and, using the back of the spoon, gently break apart the sausage meat to ensure a more even browning.
Add the saffron strands and cook for 1 min.
Add the wine and reduce until one quarter remains.
Add the passata/chopped tomatoes, rinse out the jar with the water and add to the pan.
Season well with salt and black pepper and cook down for between 15-20 mins until the sauce has thickened. NB. Have a potato masher to hand to gently mince the pork and tomatoes to create a smoother (not smooth) sauce.
Meanwhile, boil a pan of salted water and add the Gnocchi Sardi. Cook until al dente.
Drain the Gnocchi Sardi, remove the bay leaves and mix the pasta with the ragu.
Serve immediately with the finely grated cheese and a glass of Italian white wine.
We recommend serving this meal with a glass of Tenuta Pernice Ortrugo Frizzante Colli Piacentini - the light bubbles with a wonderful citrus and fresh flavour. Super moreish!